SSIS-064 The Fascinating Afternoon Wife Who Hangs Her Panties On The Balcony Is A Sign That Her Husband Is Guaranteed Absent. Yumeno Aika
Movie Information:
ID Code: SSIS-064
Release Date: 28/05/2021
Category: Censored , Big boob , NTR , MILF , Big ass , Big Butt , Slut , Next Door , Married Woman , Beautiful Girl , Exhibition , Cuckold
Actress: Yumeno Aika
Tags: S1 NO.1 STYLE Jav , SSIS- , SSIS-064 , SSIS-064 JAV
Studio Label: S1 NO.1 STYLE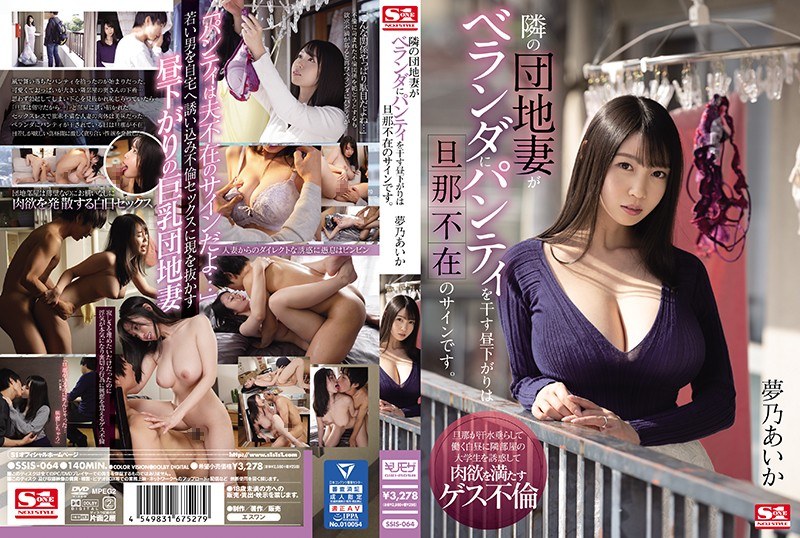 Bigojav stream SSIS-064 Jav: A married wife who is not satisfied with her husband in term of sex and just living normal as she just not courage to step over the boundary right now.

SSIS-064 Yumeno Aika Jav: A normal life with normal married which is the best is what Aika-san thought of right now as the days gone by.
She plan to have a children with her husband soon so she did a lot of abstince to keep her sexual urge too.
But there is not getting any progress since her husband always absent and come home late tired all the time.
And this keep happen until one days, when she met a neighbour friend who get to know more about her situation and gradually they got so close that eventually have sex with to each other.
As for a person who did not want anything abrupt this idea of having sex with him make her really excited and prepare a sign that to him by hanging her panties in the balcony so that this friend could come to her room and have fun...
Enjoy!