MDVR-132【VR】I'm Now Having An Affair With A Married Woman (Tsubomi) And A Female College Student (with A Boyfriend)! !! One Day, Two People Got Togeth
Movie Information:
ID Code: MDVR-132
Release Date: 12/06/2021
Category: Censored , Underwear , Big boob , NTR , Big ass , Big Butt , Slut , Next Door , Married Woman , Beautiful Girl , College Student , Harem , Cuckold , VR
Actress: Tsubomi , Kanon Urara
Tags: MDVR- , MDVR-132 , MDVR-132 JAV
Studio Label: MOODYZ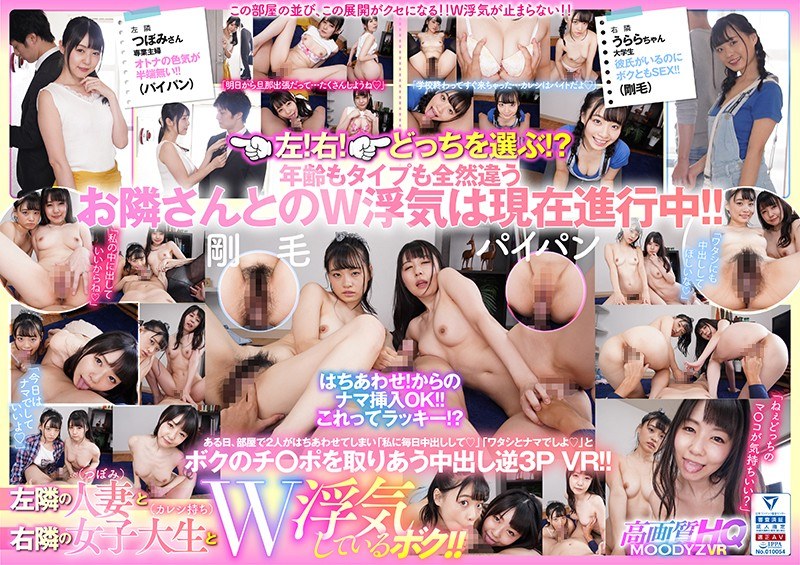 Bigojav VR watch MDVR-132 Jav: This is a story of a normal jobless man who is now rent in an apartment near the downtown to looking for a jobs.
As he looking for a new jobs, he get to know his neighbor who seem to be a very happy family.
They were a married woman (Tsubomi-san) on his left apartment. A female college student who now living on the right apartment (Urara-san) with her boyfriend and plaining to married when she graduated.
Both of them was kind and lovely toward me even though i'm a jobless guys that encourage me to find a better job and finding someone as kind as them to be my wife.
That was my dream, of course!
But there is a little misunderstood that every days, one of the girls will come to my house and spend her time with me even though they had a family to take care and since i'm living all alone by myself.
I did not care much about it anyways until one days, those girl start to to take initiative and temp me with their sexual skill that make me could not hold it myself and have sex with them.
We know that this is a bad thing to do but the temptation of having a good sex is what keeping us doing though.
That eventually lead to one days, those two girl came in to my house at the same time and asking for sex but this time, to prove who loved me more, they asked if i could have a creampie sex in their vagina every day?
Enjoy~